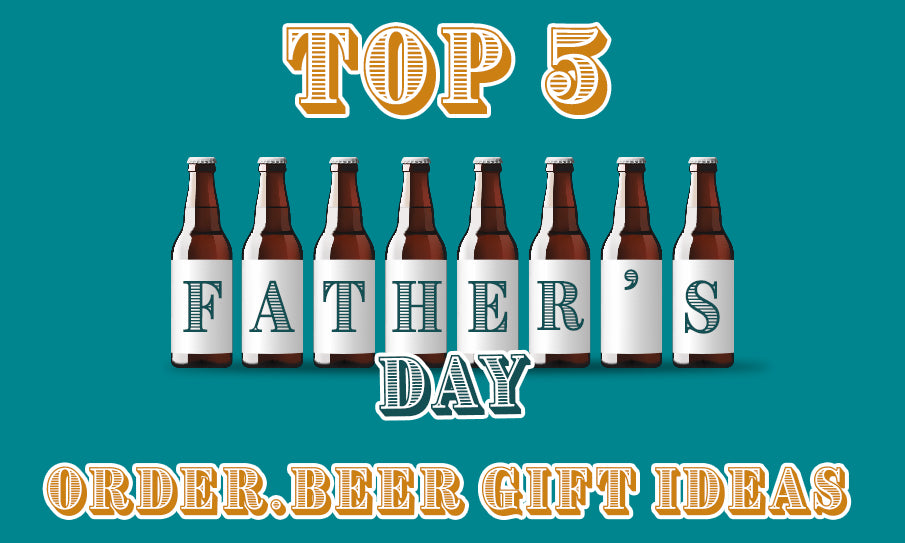 Top 5 Father's Day Order.Beer Gift Ideas
Father's Day, 20th June 2021, a day we celebrate the special people we call Dad. The friend, always there to listen to our woes, the protector of the family, the advisor - cause we all know Dads know best. So it's their day to be cherished and reminded that they're awesome! 
There are so many drinks out there to choose from; you might find it hard to decide which ones he'll like. 
We've got you covered! So if you're planning a special day for your Dad this year, why not raise a glass with one of our top 5 fantastic Order.Beer gifts!
Order DOT Beer Triangular Tube
Our award-winning and unique Order.Beer Triangular Tube, three 330ml Cans of your choice from our perfectly put together options, we're sure we have a selection for every dads' taste out there!
Derbyshire Delight / Pennine Picks 
Scottish Selection
Dark Premium Selection
Light Selection
Lager / Pilsner 
Manchester Lager 
Fruity Mix / Titanic Times 
Welsh Wonders
Order.Beer - Online Delivered to Your Door  
Packed with twelve beers carefully selected from a collection of independent breweries across the UK, celebrating Father's Day will be a breeze! And if you opt for the 'Bonus Beer Special', you can get two extra beers and dad-approved snacks that will compliment his taste buds. Can it get any better than that? 
12 Selected Mixed Beers (Bottles and Cans)
Bonus Beer Special (12 + 2 Bottles and snacks)
12 Bottles Only 
12 Cans Only
Dark Beer Selection (Stouts and Porters)
For the Dad who prefers the scintillating stouts and porters, this is the ideal gift for him. The selection consists of twelve beers from a range of breweries, including Buxton (Derbyshire), Fallen Brewery (Scotland), Wincle Brewery (Cheshire), Titanic Brewery (Staffordshire), Twisted Wheel Brewery (Warrington), Felinfole (Wales), Seven Brothers (Manchester) and Yeastie Boys (UK and NZ!).
Mixed Selection (Bottles and Cans)
Bottles Only
Wine Gift Tube
We know some people love wine as well as beer, and maybe your Dad is the same, so we have the ideal gift for him, as we have three miniature bottles of wine in our popular triangular gift tube. Our wine choices are from an award-winning independent English Wine Producer based in Staffordshire. And if your Dad likes what he tastes, we sell the larger versions too! 
Order Cider - Online Delivered to Your Door
With summer starting to brighten our days, there's nothing better than an ice-cold bottle of cider whilst basking in the sun, am I right? And if your Dad is a fan of cider, we've got just the thing! With our 12 Bottle selection of Ciders, from Dry, Fruit and Sweet options to choose from, you'll find a selection that will keep your Dad refreshed. 
Mixed Producers Ciders Selection (6 Ciders from Darley Abbey & 6 from Hurst Cider)
Darley Abbey Cider (Mixed Selection, 12 Bottles (Currently 6x Dry & 6x Fruit)
Darley Abbey Cider (Dry Selection, 12 Bottles of Dry Cider)
Darley Abbey Cider (Fruit Selection, 12 Bottles of Fruit Cider)
Darley Abbey Cider (Sweet Selection, 12 Bottles of Sweet Cider)
Mixed Hurst Cider (4 Jibber Jabber, 4 Golden Pips and 4 Puckered Pear)
Hurst Cider 12x Golden Pip
Hurst Cider 12x Jibber Jabber
Hurst Cider 12x Puckered Pear
So there are our top 5 gift ideas for Father's Day this year, but that's not all we have! Check out some of the other gift ideas we have to offer for other family celebrations throughout the year!