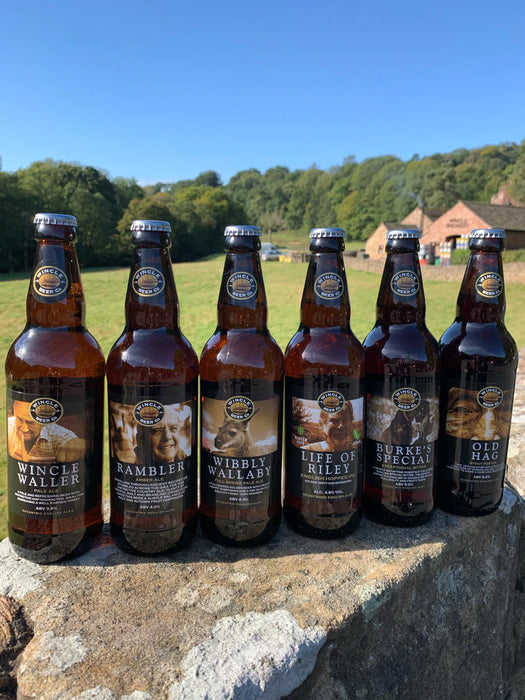 Wincle Brewery Selection
Save

0

%
Save %
Original price
£35.99
-
Original price
£35.99
Twelve scintillating beers from Wincle Brewery just waiting to leap into your pint glass, just like the local trout but it's beer not fish!
Wincle is a wonderful place to walk and enjoy the comforting sound of the stream.
On the edges of Cheshire and a stones throw from Staffordshire these beers have gone down a treat, with or without something to eat, now you can send them to anyone across the UK and make their day complete.
The current selection includes the following beers all in 500ml bottles and one case contains 12 bottles from the following varieties:
Life of Riley
Rambler
Old Hag
Wibbly Wallaby
Burkes Special
Wincle Waller
Life of Riley

A delicious golden IPA brewed with Derek in mind. Fortunate enough to have spent his whole life in Wincle, Derek counts himself as blessed ... and with the view of a brewery quite literally on his doorstep who can disagree? 
Alc: 4.8% alc. (2.4UK Units)
Drinking notes: Golden traditional style IPA
Malt:  Maris Otter, Crystal 
Beerspiration: Having lived his whole life in Wincle and now living overlooking the brewery Derek Riley brings to life the "living the life of Riley" in a whole new way.

Allergens: Please note that this product uses Barley, Wheat in the process but the gluten has been stripped out.
Rambler Amber Ale
A subtle blend of malt and Autumnal fruit hoppiness. An enduring crowd pleaser this is an original that keeps on giving
Alc: 4.0% alc. (UK Units)
Drinking notes: Dark comforting ale with lashings of malt
Hops: Brewers Gold, Cascade, Fuggles
Malt: Pale, crystal, amber and chocolate
Beerspiration: Meet Peter local and rambler extraordinaire- inspiration for the beer and indeed our 2020 walking series

Allergens: Barley, Wheat
Please store in a cool, dark place 

Old Hag
A traditional style stout porter. Discretion prevents us from revealing the inspiration for this one!
Alc: 6.2% alc. (3.1 UK Units)
Drinking notes: Dark comforting ale with lashings of malt
Malt: Maris Otter, Chocolate, Brown Malt, Rolled Oats
Beerspiration: Local folklore up on the wilds of the Peak Staffordshire Moors talks of a hare turning into a hag. This beer is worth the risk

Please store in a cool, dark place 


Wibbly Wallaby
Legendary and award winning. Wallabies on the roaches. Unconfirmed reports that Wallaby makes you Wibbly
Alc: 4.4% alc. (UK Units)
Drinking notes: Golden with  a fruity and biscuity finish
Beerspiration: Tasmania meets the Roaches... allegedly released after the war a colony of Wallabies made the Roaches home. Last known sighting in Feb 2009

Allergens: Barley, Wheat
Please store in a cool, dark place 


Burkes Special
A exceptional bitter in more ways than one. One of our absolute favourites, and a winner with lovers of darker beers. Enjoy ideally with a faithful companion.

Style: Exceptional Bitters (English Special Bitter)
Alc: 5.0% alc. (2.5UK Units)
Drinking notes: Full malty and fruit taste
Hops: Fuggles, Challenger, Target, EKG
Malt: Maris Otter, Dark Crystal
Beerspiration: Burke was the faithful companion of the Squire of Swythamley, Sir Philip Brocklehurst. Take the climb to hanging stone from the brewery (20 minutes) and you will see a plaque on the stone in Burke's honour.


Wincle Waller
A pale ale that is a delicious refresher with an enduring appeal.
Style: Pale Ale
Alc: 3.8% alc. (UK Units)
Drinking notes: Pale and refreshing with distinctive hop character. A true thirst quencher
Malt: Pale and extra pale
Beerspiration: When a man spends his days creating the lasting legacy of gritstone walled fields you just have to name a beer after him. One of the original beers - almost as enduring as Peter's stone walls.