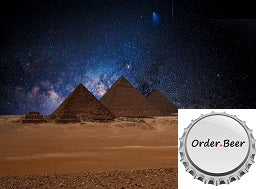 Beer Pyramid
I was reviewing some of the searches on the site and noticed a few people have been looking for Fosters, Budweiser, Stella, Carling etc. This isn't what we do but perhaps it may be a time to consider some alternatives. We are an independent business so even if we did sell these beers there would be no chance of competing with the supermarkets.
It's well worth trying different beers and if you are unsure ask a local brewery for a sample and explain what you usually drink. There is a beer for nearly everyone.
I don't drink it any more but roll back twenty years or so there was a time when we drank Fosters and with some friends created a pyramid of cans that covered the width of my bedroom window to the top. I thought it was an achievement anyway even though we did get some questions! (Ideas here for your greatest beer bottle/can creations, answers on a postcard!)
| | |
| --- | --- |
|   | If you are looking for a lager that's ideal for the summer then look no further than Freedom Brewery which has it's own British Selection and has been a popular choice amongst our customers. It's also Vegan Friendly and tastes great. Have a look at the Freedom Brewery Selection. |
The majority of the beers listed on our site we've either tried ourselves and/or from breweries which we have met and delighted to be able to supply their beers to a wider audience across the UK. Our vision is Connecting local breweries to global doors, Aberdeen to Southampton is a good start!
| | | |
| --- | --- | --- |
| | We are of course conscious of customer demand and you may have noticed we have recently added a Gluten Free Selection which has been requested in discussions and I'm delighted the first few beers have come from Brass Castle Brewery who we've shared a few pints with both sampling and rambling! Order yours now. | |
Alcohol free is also another area of interest and we're looking into options here, as it's getting that balance. It's a lot of the bigger brands dominating this market and again whilst there would probably be interest it would tough to be competitive with other suppliers. However we have identified a couple of independent breweries and hope to have some options available soon.
Varying slightly we've also been asked about Cider and some other products that end with the last three letters of begin. We'll certainly listen to our customers but rest assured our same principles will apply and working with producers who we can relate to is key and if we can all enjoy it then absolutely fantastic. 
Finally I'm writing this blog on the day we sadly lost one of our childhood heroes and somebody I met at Butlins with my Grandad. I am of course talking about the Chuckle brothers, so thanks for keeping us balanced Barry and from me to you, a huge thank you for entertaining us all.